HOW TO GET TO LINNÉMARSCHEN
Borås is located in a densely populated region in Western Sweden with 1.5 million people living within a 10 mile radius. Borås is the hub for four national roads, including the motorway between Gothenburg and Stockholm. The proximity to Gothenburg Landvetter Airport and most of the rail links are part of Borås good location.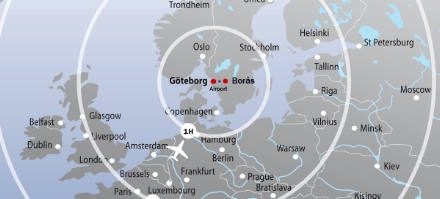 The best way to transport yourself in Borås is to walk. The walk along the river Viskan takes you between Borås two largest downtown areas, Borås City and Borås Event Area – where you will find Knalleland, Borås Arena, Borås Zoo and more. Map with the starting area Borås Arena. Entrance to the Arena takes place in the NO corner (Skaraborgsvägen-Ryavallen).
With bus
Borås Lokaltrafik takes you by bus within the city. Södra Torget and Resecentrum are focal points for the buses and both are in the center of Borås. Tickets are purchased on the bus with credit card (not cash) or at Pressbyrån shop at the central station, travel center or Södra Torget.
» Borås Lokaltrafik
» Time tables
With taxi
» Sverige Taxi, Borås, +46 33 12 70 70
» Izigo Taxi, +46 33 123 123
Gothenburg Landvetter Airport, Western Sweden's international airport, is halfway between Gothenburg and Borås and offers 75 departures each day to more than 20 destinations. You can get to and from the airport by airport bus or car in about 25 minutes from Borås.
Read more at: Göteborg Landvetter Airport
Swebus from Landvetter: Borås operates 7-8 times / day with direct buses that take about 35 minutes. The bus stop is just outside the terminal (the same bus stop used by Västtrafik).
Borås is the hub for four national roads, 40, 41, 42 and 27. It is easy to get by car to Borås. When here it is a good advice to park the car as it is walking distance to almost everything in the city. Read more about where to park in Borås here: